You might notice a string of roof issues when your existing system is already nearing the end of its life. Recurring leaks, increased energy bills, plus aesthetic and structural damage are just some of them. For this reason, you should start taking proactive measures before your old roof compromises your home further.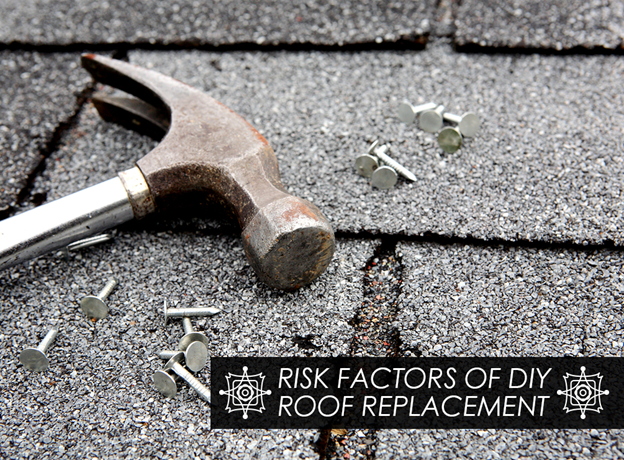 This means investing in a more permanent solution—roof replacement. You probably know how huge this project can be—installing new roofing in Gig Harbor takes considerable time and money. That's why you should hire a pro for the job. DIY might seem easy but it just doesn't mix well with any roof project. Patriot Roofing, your premier roofing company, shares some of the dangers involved with DIY roof replacement.
Safety Risks. If you're planning DIY, expect a significant amount of time walking around a steeply pitched roof and working from a great height for hours. You'll need to be able to maneuver with ease, especially if the roof is particularly steep. For an untrained homeowner, it's so easy to slip and fall when you're not careful.
When you hire professional roofer like Patriot Roofing, however, you no longer have to worry about this. Keep your feet safely on the ground and leave the work to us. Our highly trained crew has deep experience with the project. They'll practice the right safety measures and ensure a fast, expert job with zero fuss.
Wrong Tools. Replacing your system isn't limited to easy traversal on the roof's surface. You'll need to have the right tools for this specific job. To avoid the constant back-and-forth to a home store, plus the mounting expenses, turn to Patriot Roofing. We arrive at every job site equipped with the necessary tools and equipment. Since our crew is well-versed to their usage, expect safe and efficient installation of your new Gig Harbor roofing.
Improper Installation. Everything seems to be in order—your roof looks fine after your DIY project. That is, until it starts raining. Sloppy installation can lead to the problems you worked to avoid in the first place. Your roof will be more prone to wear and tear, causing it to fail long before it should. You'll have to spend additional money to deal with it.
Fortunately, you can turn to Patriot Roofing, your premier roofing contractor in Gig Harbor. We carry a range of certifications from the leading roof manufacturers. This means we meet the rigorous testing and training set by the brand, ensuring superior installation that adhere to quality standards.
Simply put, hiring a pro like Patriot Roofing for your project is more beneficial to DIY. We'll help you avoid these risks factors through our professional crew. Expect a safe and smooth roof replacement when you turn to us. Call us today at 1-253-265-6868 or fill out this form today to get a free estimate.