Ethylene Propylene Diene Monomer (EPDM) is a kind of low slope roof that is usually referred to as rubber roofing in Bremerton, WA. It is a rubber-based product with a proven history of being durable. It is typically found in low-sloped buildings throughout the country.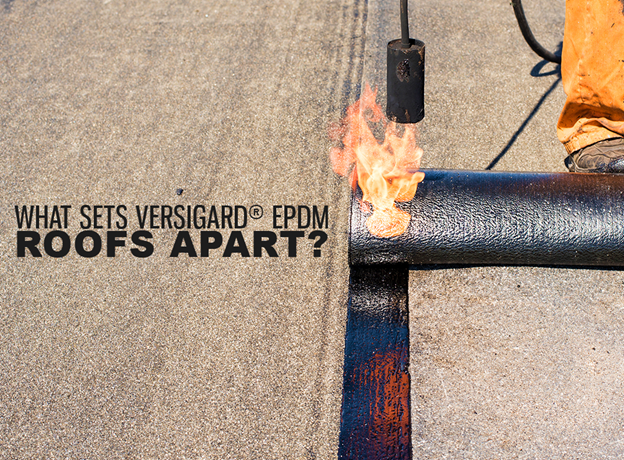 It is made from natural oil and gas, particularly ethylene and propylene. EPDM roofs are available in both black and white, varying widths, and thickness. You can install them ballasted, fully-adhered, or mechanically attached. You can also seal the seams of this roofing system using liquid adhesives.
Patriot Roofing is an authorized dealer of VersiGard® from Versico, a unique kind of EPDM. Let us explain the benefits of an EPDM roof. We also show you what sets VersiGard apart from the rest.
Benefits of an EPDM
This type of Port Orchard roofing features reflective surfaces that keep the sun's heat away. This helps keep your workplace's interior cool, lessening your reliance on your HVAC units and leading to more energy savings. Aside from being a cool roof, it has remarkable longevity, able to protect your building for up to 20 years. EPDM roofs can also resist hail, thermal impact, and UV rays, which can degrade your roofing's beauty. Lastly, this kind of roofing is waterproof to keep your investments protected from water damage.
Features of VersiGard
Our Versigard product line includes 75-mil reinforced EPDM and 90-mil non-reinforced EPDM. Both have extreme strength, weather-resistance, and efficiency and are twice as thick as typical EPDM membranes. This gives them incredible puncture resistance and a long life service. We also take pride in our VersiGard Premium EPDM white membranes that meet ENERGY STAR® and Cool Roof Rating Council (CRRC) standards.
Furthermore, they come with quick-applied seam tape technology and accessories, making it easy for us to install them. This will save you time and minimize labor costs. Expect our EPDM roofs to protect your commercial establishment for years to come.
Warranty Information
Our roofers in Tacoma, WA, are committed to ensuring customer satisfaction. That is why we offer VersiGard roofing that comes with exclusive warranties for your peace of mind.
75-mil Reinforced EPDM — They have puncture warranty coverage for five years up to 30 years.
90-mil Reinforced EPDM — This roofing system has puncture warranty and comes with a 10-year reflectivity warranty available for white membranes. Furthermore, this has a 30-year No Dollar Limit watertight warranty, which covers membrane insulation, fasteners and terminations, accidental puncture, wind damage up to 120 mph, hail damage up to 2", and lastly, 40-year non-pro-rated material warranty.
These qualities make VersiGard outstanding. Count on Patriot Roofing to provide you with this remarkable roof for a well-protected commercial building. Call us today at 1-253-265-6868 for a FREE consultation.