Seattle is in for a wet week which is pretty inconvenient for the baseball game being held in the area. But spectators and players are not the only ones hassled by this kind of weather; Gig harbor's fishing enthusiasts will have to take a raincheck for next week as well. The city's parks, which are the center of tourism, will not be an ideal place to go either. In your respective houses, your
Gig Harbor roofing
will have to endure four days of continuous downpour.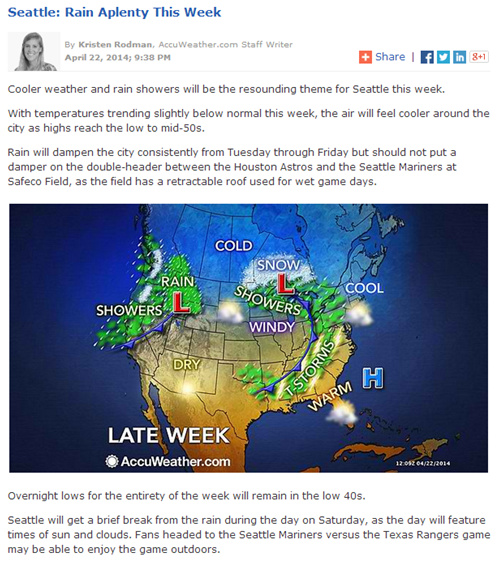 The weather report from accuweather.com announces that:
Cooler weather and rain showers will be the resounding theme for Seattle this week. With temperatures trending slightly below normal this week, the air will feel cooler around the city as highs reach the low to mid-50s. Overnight lows for the entirety of the week will remain in the low 40s. Seattle will get a brief break from the rain during the day on Saturday, as the day will feature times of sun and clouds. However, the relief from the rain won't last as rain returns to the area on Sunday. Those headed to the last of the games between the Mariners and Rangers should be a rain jacket for travel to the venue. Heading into next week, sunshine will return to the city by Tuesday as temperatures warm into the 70s.
But there are several roofing system options that you can choose from, one of which is designed to bear days of rainy weather. You need maximum water resistant
roofing in Gig Harbor
to protect your home in case such a downpour occurs. Consult Patriot Roofing because they are fully certified to install TPO roofing systems which are designed specifically for this kind of weather condition. This dependable roofing contractor is backed by certifications and warranties from top roofing manufacturers like CertainTeed, Owens Corning, Sound-Lok, and Versico. If you are in need of emergency roof repairs during these times, trust the Patriot Roofing professionals for immediate roof repairs that will help prevent further damage and protect your property. They will inspect and assess your roof to determine any damage that might not be visible on the surface.
(Article Excerpt and Image from Seattle: Rain Aplenty This Week, accuweather.com, April 22,,2014)