Why You Must Choose Gig Harbor Roofing Materials Based on Location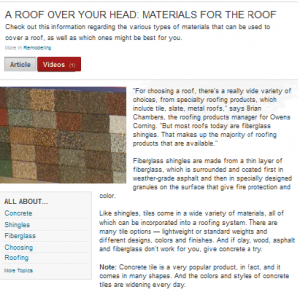 When shopping for roofing materials, most homeowners concentrate on either cost or aesthetics as the main deciding factor. The roof should indeed complement a home's overall architecture, after all, and ideally fall within a reasonable price range. Yet many roofing experts suggest that location is also rather crucial when it comes to choosing the right roofing material for any residential structure, as highlighted in an article posted on diynetwork.com:
The final factor to consider when choosing roofing materials is location. If you live in a heavy snowfall or rainfall area, the harsh conditions may dictate what kind of materials, as well as how steep a pitch, your roof should have. For example, snowfall areas should avoid clay tile because they can easily become damaged. You also want to avoid flat roofs, which can allow snow to accumulate and which, left unchecked, can seriously damage your home. In the Midwest and on the East Coast, you'll tend to see steeper roofs than you will on the West Coast. That's a matter of function as well as form since homeowners like to get the snow off their roofs as quickly as possible.
In places with moderate climates, however, homeowners may have a much wider range of roofing options to consider. For instance, folks in Tacoma and surrounding areas like Gig Harbor and Port Orchard are fortunate enough to live in an area with a predominantly Mediterranean oceanic climate characterized by warm summers and mild winters. Given that snowfall may not be much of a problem here, local residents can count on reputable
Gig Harbor roofing contractors
such as Patriot Roofing LLC to offer quality asphalt shingles as well as metal, synthetic, and even tile roofing. In any case, folks in the Pacific Northwest typically have to deal with adequate rainfall throughout the year, and will accordingly require roofing systems that can withstand such weather conditions. Property owners can consult with a trusted contractor like Patriot Roofing LLC to identify
Port Orchard roofing
materials that best suit their needs based on such factors as aesthetics, cost, and most importantly, location. Ultimately, you'll want to invest in top-quality roofing materials that can withstand repeated abuse from the elements and thereby ensure your household's optimum comfort and protection. (Info from A Roof Over Your Head: Materials for the Roof, DIY Network)